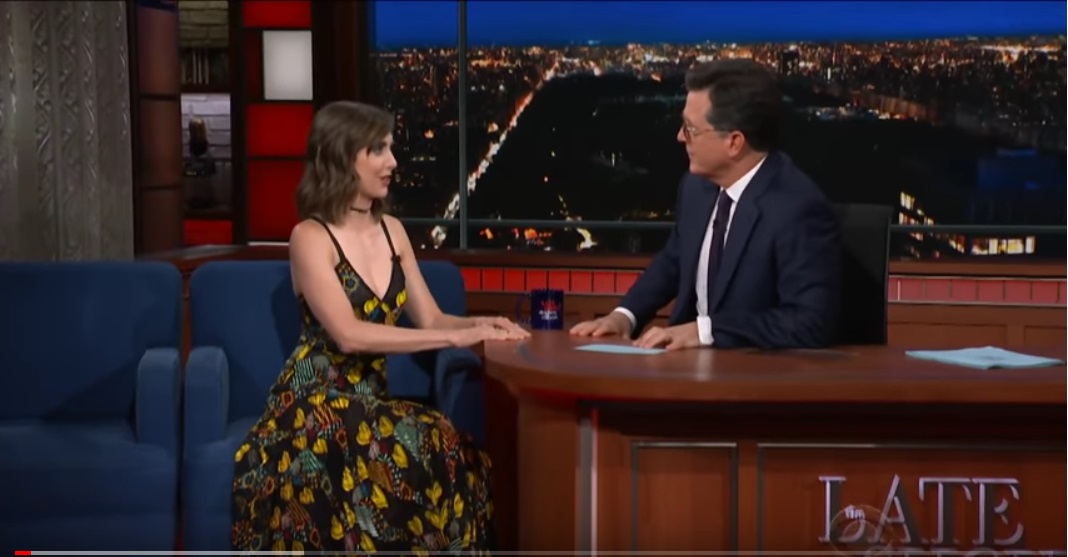 Alison Brie Became a Detective

Transcript:
>> Stephen: HI, YA!
HI!
>> Stephen: NICE TO MEET YOU
>>I'M GLAD PEOPLE LAUGHED WHEN
YOU DESCRIBED MY CHARACTER ON THE SHOW.
IT'S NOT A JOKE!
TURNED PRO WRESTLER IS A REAL THING.
>> Stephen: YES, BUT THEY ENJOYED THE SHOW SO MUCH THE
MERE THOUGHT OF YOUR CHARACTER WAS ENOUGH.
>> DELIGHTED THEM.
>> Stephen: YOU DON'T EVEN HAVE TO DO THE SHOW ANYMORE.
>> THANK YOU VERY MUCH.
( LAUGHTER ) >> Stephen: WE'RE VERY BULLISH
ON "GLOW."
YOU WERE NOMINATED FOR A GOLDEN GLOBE.
CONGRATULATIONS ON THAT.
( CHEERS AND APPLAUSE ) THAT IS ALL THE COMPLIMENTS ARE
JUST TO GET TO THE STORY.
IENCE YOU ENGAGED IN THE CRIMINAL ACTIVITY THE NIGHT TO
HAVE THE GOLDEN GLOBE, THAT YOU WERE AN ACCOMPLICE TO A CRIME.
>> THAT'S MORE CORRECT, YES.
WELL, IT WAS MY FIRST TIME AT THE GOLDEN GLOBE'S, SO I REALLY
WANTED TO MAKE A SPLASH.
THAT'S NOT TRUE.
MY SISTER CAME WITH ME AS MY DATE.
>> Stephen: OKAY.
WHICH WAS LOVELY AND WONDERFUL, UNTIL SHE STOLE SETH
ROGEN'S CELL PHONE.
>> Stephen: BECAUSE SHE COULDN'T HELP HERSELF?
>> SHE WANTED TO SELL HIS PHOTOS ONLINE.
NO.
THAT'S NOT TRUE EITHER.
( LAUGHTER ) I LOVE A GOOD MYSTERY.
>> Stephen: SURE.
O MY SISTER CAME WITH ME, AND MY HUSBAND DAVE FRANCO WAS
THERE AS WELL, HIS MOVIE THE DISASTER ARTIST WAS HONORED AS
WELL.
SO WE WERE SITTING SEPARATELY.
MY SISTER WAS SITTING WITH ME.
DAVE WAS SITTING AT THE DAY SISTER ARTIST TABLE.
AT ONE PART IN THE SHOW WHEN THEY ANNOUNCED MY CATEGORY, MY
CYSTEN AND DAVE SWITCHED HANDS TO MY HUSBAND AND I COULD HOLD
HANDS DURING MY CATEGORY AND SHE WENT AND SAT BETWEEN JAMES
FRANCO AND SETH ROGEN.
SHE RETURNED TO THE TABLE, VERY CALM, COOL AND COLLECTED.
WE HAD A GREAT NIGHT.
BUT IT'S A CRAZY EVENT.
>> Stephen: THERE'S DRINKING.
DRINKING.
>> Stephen: THAT'S WHY IT'S BETTER THAN THE EMMYS.
>> THAT'S WHY.
I CAN REPORT THERE WAS A LOT OF DRINKING.
I DIDN'T SEE DAVE OR THEIR TABLE FOR REST OF THE NIGHT.
WE WENT SEPARATE WAYS AND FROM ONE PARTY TO THE OTHER I RAN
INTO THE AGENT OF JAMES AND SETH AND SHE SAYS, THE CRAZIEST THING
HAPPENED!
SOMEONE STOLE SETH'S PHONE!
WE HAVE BEEN LOOKING EVERYWHERE, AND CAN YOU — WHO WOULD DO SUCH
A THING ON A NIGHT LIKE TONIGHT IN THIS ROOM OF PEOPLE?!
AND THE WHOLE TIME, I'M SHOCKED.
I HAVE NO IDEA WHAT'S GOING ON.
AND I HAVE JUST, LIKE, I'M SO SORRY.
I THINK WE SAW THEM OVER THERE.
GOOD LUCK.
WE TOOK TEN STEPS AND MY SISTER TURNS TO ME AND SHE SAYS, I HAVE
TO TELL YOU SOMETHING…
I WAS, LIKE, WHAT?
AND SHE GOES, IT'S BAD.
AND I SAID, IT'S BAD.
I SAID, TELL ME NOW!
SHE REACHES IN HER PURSE AND PULLS OUT TWO IDENTICAL CELL
PHONES.
SHE SAID, I'M THE ONE WHO STOLE SETH'S PHONE!
IT WAS ME.
>> Stephen: DID SHE TURN HERSELF IN?
>> WELL, I TURNED HER?
>> Stephen: YOU NARCED ON YOUR SISTER?
>> YES, BECAUSE I THOUGHT IT WOULD BE GOOD TO BE THE HERO.
>> Stephen: AT YOUR SISTER'S EXPENSE?
>> YES.
>> Stephen: OLDER OR YOUNGER SISTER.
>> MY OLDER SISTER.
>> Stephen: YES.
O IT'S ESPECIALLY FUN TO PRANK HER.
EVEN TELLING YOU THIS STORY TONIGHT ON NATIONAL TELEVISION
IS BRINGING ME GREAT JOY, IMAGINING HER EMBARRASSMENT.
I RAN BACK WITH THE PHONE, I FOUND THE PHONE!
I'M THE HERO!
DAYS LATER SHE SAID, COULDN'T WE HAVE JUST ANONYMOUSLY MAILED THE
PHONE BACK?
DOES SETH ROGEN NEED TO KNOW TIM ONE WHO TOOK THE PHONE?
BUT THERE'S BEEN NO FALLOUT FROM THAT.
SETH AND RIGREAT.
( LAUGHTER ) >> Stephen: I'M SO GLAD TO
HEAR ABOUT THAT.
ONE OF THE THINGS YOU DO IN "GLOW" IS YOU GUYS DO YO YOUR OW
STUNTS AND YOU HAVE TO BE IN GREAT SHAPE.
I SAW A VIDEO OF YOU DOING 11 PULLUPS.
>> YES.
>> Stephen: I UNDERSTAND YOU CAN DO 40 PULLUPS.
>> IN SETS.
I'M NOT JUST GOING TO JUMP UP AND DO 40 STRAIGHT THROUGH.
I'LL DO A SET OF TEN THEN A SET OF EIGHT, THEN SIX.
WHO SAID 40?
I FEEL 26 MIGHT BE THE NUMBER.
>> Stephen: THE HEADLINE SAID ALISON BRIE CAN DO 40 PULLUPS.
>> IT'S IN THE PAPERS.
>> Stephen: EXACTLY.
YOU COULD THREATEN MY FAMILY AND I COULD DO FOUR.
HAVE YOU ALWAYS BEEN ATHLETIC?
>> NOT AT ALL.
I USED TO BE BIG INTO THEATER SPORTS.
( LAUGHTER ) >> Stephen: NOT A LOT OF
CARDIO IN THEATER SPORTS.
>> JUST JAW CARDIO.
>> Stephen: COULD WE HAVE THE SUGGESTION OF AN ATHLETIC EVENT?
SORRY, WE CAN'T DO THAT.
>> YEAH.
>> Stephen: SO HOW LONG HAVE YOU TRAINED FOR THIS?
>> WELL, I'VE BEEN TRAINING WITH MY PERSONAL TRAINER FOR ABOUT
SEVEN YEARS, BUT VERY CASUALLY, SORT OF, AND THEN WHEN I BOOKED
"GLOW," ACTUALLY WHILE I WAS STILL AUDITIONING FOR "GLOW," I
WAS, LIKE, LET'S DO IT, THIS IS A WRESTLER, I WANT TO BE REALLY
STRONG.
I'M GOING TO HAVE TO, LIKE, THROW WOMEN ACROSS THE ROOM.
THAT'S SORT OF LESS TRUE.
I'M NOT JUST — YOU KNOW, IT TAKES COOPERATION AND SKILL.
THERE'S A DIFFERENT SKILL SET THERE.
BUT, YEAH, IN THE LAST COUPLE OF YEARS, REV REALLY HONED IN ON IT
AND DONE EXCITING THINGS.
PULLUPS WERE ONE TO HAVE THE MAINLY GOAL.
I HAD NEVER DONE A PULLUP IN MY LIFE.
IT WAS WORKING UP TO DO ONE — >> Stephen: BEFORE YOU DO
THIS, YOU COULDN'T DO ONE PULLUP?
>> I WOULDN'T EVEN BE ABLE TO IMAGINE DOING ONE PULLUP.
>> Stephen: AND NOW THERE'S DOCUMENTED EVIDENCE YOU CAN DO
40?
>> IT'S TRUE.
I FILM IT OFTEN BECAUSE I'M VERY PROUD.
>> Stephen: THERE ARE SEVERAL VIDEOS OF YOU ONLINE DOING
PULLUPS.
>> I'VE POSTED ALL OF THEM.
( LAUGHTER ) >> Stephen: CONGRATULATIONS.
I WISH I COULD.
( CHEERS AND APPLAUSE ) >> STEPHEN: "GLOW" SEASON TWO
PREMIERES JUNE 29 ON NETFLIX.
ALISON BRIE, EVERYBODY!
WE'LL BE RIGHT BACK WITH ROBIN THEDE.