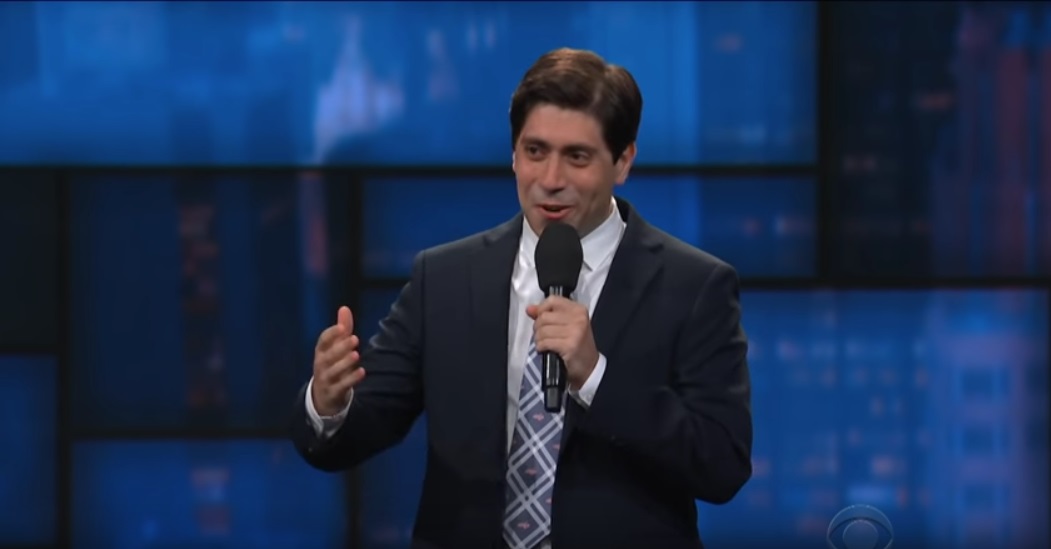 Transcript:
MY NEXT GUEST IS A STAND-UP COMEDIAN.
PLEASE WELCOME DANNY JOLLES.
>> HI ♪ ♪ ♪
HELLO!
OH, MAN!
( APPLAUSE ) ♪ ♪ ♪
>> IT FELT EXCESSIVE, BUT THANK YOU SO MUCH.
THAT WAS SO NICE.
HOW ARE YOU?
OH, ALL RIGHT.
SWEET, MAN.
I'M JUST HERE TO TALK ABOUT ONE THING, AND THEN I'LL GO, BUT I
DON'T KNOW, I THINK WE LIVE IN THIS TIME WHERE WE KIND OF CUT
PEOPLE OUT OF OUR LIVES THAT ARE DIFFERENT THAN US.
YOU WANT TO KNOW A GROUP MOST PEOPLE IN THIS ROOM HATE THAT I
LOVE?
THE BROS.
FEEL THE ENERGY IN THIS ROOM RIGHT NOW.
WHEN I SAID THE WORD "BRO."
YOU ALL HATE HIM.
WHY?
DOES EVERYBODY KNOW WHAT I MEAN WHEN I SAY "BRO?"
BACKWARDS HAT, TIGHT SHIRT, BEER, SPORTS, CHICKS!
THAT GUY.
DO WE ALL KNOW BROS.
I GET IT BECAUSE THEY COME IN A ROOM HOT.
THEY COME IN LOUD.
I'M SMALL.
I GOT BETA FRIENDS.
MY FRIENDS GET SCARED BECAUSE THEY COME IN LOUD.
THEY'RE LIKE, "WHAT'S UP!" AND MY FRIENDS ARE LIKE,
"AAAHHH!" AND I'M ALWAYS LIKE, "NO, NO,
NO, IT'S JUST THE DOG."
BROS ARE THE DOGS OF HUMANS.
THEY'RE JUST LOUD BECAUSE THEY'RE EXCITED THEY MIGHT MAKE
A FRIEND.
BROS WALK INTO A ROOM, WHO WANTS TO BE MY FRIEND?
WHERE CAN I PEA?
I CAN HUMP HER?" ( APPLAUSE )
THAT'S JUST A GOLDEN RETRIEVER.
THERE'S NO NEED TO PANIC.
THINK ABOUT– THINK ABOUT HOW HARD IT IS TO MAKE FRIEND AS AN
ADULT.
I DON'T KNOW ABOUT YOU GUYS, I FIND IT REALLY HARD TO MAKE NEW
FRIENDS, UNLESS I'M WITH A BRO.
THEN I JUST SAY ANYTHING NEAR HIM AND HE'S LIKE, "WAIT, YOU
BREATHE AIR.
I LOVE OXYGEN, BRO!" THAT'S MY NEW BUDDY FOR THE DAY
IFIMENT HIM.
THAT'S NOT SO TERRIBLE.
NOW, ARE THERE SOME BAD BROS OUT THERE?
YES, THERE ARE.
NOT HERE TO FIGHT BUTHAT.
SOME BAD BROS.
DON'T HAVE TO NAME NAMES.
( LAUGHTER ) BUT THERE'S BAD DOGS.
THERE'S GOOD DOGS.
THERE'S GOOD BROS.
YOU EVER MET A GOOD BROLIKE IN A BAR.
HE YELLS "ROE V.WADE!" WHAT WAS THAT?
THERE IS AN EPIDEMIC IN THIS COUNTRY RIGHT NOW OF PROGGIVE
BROS.
IF YOU HAVEN'T MET ONE YET, GET GTO YOUR LOCAL SPORTS BAR.
THEY'RE THERE AND THEY'RE BEAUTIFUL.
THINK PROGRESSIVE HEART OF A BRO.
SO PROGRESSIVE-BRO.
YOU'LL HEAR HIM, "BRO, THE OTHER NIGHT, MET THIS CHICK HSEX ALL
NIGHT, BRO!
SEX ALL NIGHT!
GOT HER AN UBER.
MADE SURE SHE GOT HOME SAFE."
FRIEND'S LIKE, "YOU GOT CONSENT."
"I GOT CONSENT ALL NIGHT!" HIGH-FIVE.
I'LL GET HEAVIER WITH IT, IF YOU WANT.
WE HAD– WE HAD AN ELECTION IN THIS COUNTRY ABOUT A YEAR AND A
HALF AGO.
I DON'T KNOW– I DON'T KNOW IF YOU GUYS HEARD ABOUT THIS.
( LAUGHTER ) THEY BARELY TALK ABOUT IT.
IT WAS– IT WAS THIS ELECTION TDIDN'T GO VERY WELL FOR
PROGRESSIVES.
I HAPPEN TO BE A PROGRESSIVE GUY, WE HAD A LITTLE
OOPSY-DOODLE.
BUT I TRY TO TAKE LESSONS FROM THINGS.
SO FOR ME THE LESSON I TOOK FROM THIS PAST ELECTION IS WE AREN'T
COMMUNICATING WELL WITH MIDDLE AMERICA.
WHAT DO WE SEND THEIR WAY?
BLOGS AND COND SESSION.
WE CAN DO BETTER.
BLOGS DON'T WORK.
THEY MAKE US FEEL GOOD BUT BLOGS DON'T WORK BECAUSE THEY'RE
WRITTEN PRIMARILY BY HIPSTERS, AND HIPSTERS — NO OBVIOUS TO
ANY HIPSTERS IN THE ROOM– BUT HIPSTERS ARE THE CATS OF HUMANS.
( LAUGHTER ) ( APPLAUSE )
"YOU DON'T LIKE ONE OF THE FIVE VERY SPECIFIC BANDS THEY LIKE?
DON'T TOUCH ME ANYMORE!" THEY'RE CATS, MAN.
I'VE BEEN TO MIDDLE AMERICA.
I'M A BORN AND RAISED VIRGINIAIAN.
THESE ARE DOG PEOPLE.
WE'RE TRYING TO TALK THEM INTO TRANSGENDER BATHROOMS.
THOONS ACTIVE ISSUE.
WHEN YOU READ A BLOG.
I WAS IN A SPORTS BAR, ABOUT A MONTH AGO, AND I WAS TRYING TO
WATCH MY WIZARDS, WHICH IS A BASKETBALL TEAM.
I COULD JUST– STOP THE JOKE FAIR SECOND TO CATCH COLBERT
AUDIENCE UP.
LIKE "HE'S WATCHING HARRY POPTER AT A SPORTS BAR?"
THEY'RE A BASKETBALL TEAM.
I'M TRYING TO WATCH THEM BUT THERE'S THIS BRO JUST TALKING TO
ME.
I THINK I LOOKED AT HIM A LITTLE AILER, AND I GOT BORED AND I GOT
A LITTLE CURIOUS.
AND I SAID, "HEY, MAN, WHAT DO YOU THINK ABOUT TRANSGENDER
BATHROOMS?" I TOOK A RISK.
AND IT PAID OFF BECAUSE WITHOUT MISSING A BEAT, HE SAID, "BRO,
WHY WOULD YOU CARE WHO TAKES A DUMP NEXT TO YOU?"
( APPLAUSE ) THAT'S THE RIGHT ANSWER.
THAT'S THE RIGHT ANSWER.
THAT'S A GOOD ANSWER.
IT'S NOT HOW I WOULD HAVE PUT IT, BUT IT'S A GOOD ANSWER, AND
IT'S SIMPLE.
DID YOU SEE HOW SIMPLE THAT WAS.
AND I GRABBED HIM BY HIS FAKE JERSEY AND I GO, "YOU LISTEN TO
ME.
YOU GO TO MIDDLE AMERICA AND YOU SPREAD YOUR WORDS."
THROW OUT BLOGS.
THEY DON'T WORK.
WE NEED TO SEND THE BROGRESSIVES INTO MIDDLE AMERICA ARMED ONLY
WITH ICE AND OPINIONS BECAUSE I'M NOT TELLING YOU THESE GUYS.
THEY'LL BE LIKE, "IF MORE GAYS GET MARRIED, MORE CHICKS FOR
US!" "I CAN UNDERSTAND THAT."
I'M DANNY.
THANK YOU GUYS VERY MUCH.
>> Stephen: YOU CAN SEE HIM ON THIS SEASON OF "CRAZY
EX-GIRLFRIEND" ON THE CW.
DANNY JOLLES, EVERYBODY!
WE'LL BE RIGHT BACK.